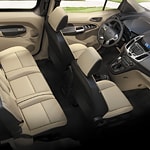 The convenience features that come with the Ford Transit Connect passenger van have made it one of the most popular vans on the road. Whether driving for business or pleasure, the Transit Connect will have you looking forward to being on the road.
With a low floor height measured at under two feet, the Transit Connect is one of the easiest vehicles to load and unload your cargo in. With flexible seating, there is sure to be plenty of room as well.
For those that like to maximize their sunshine, the available panoramic fixed-glass Vista room brings the Transit Connect up a notch. This allows you to enjoy the sun or stare at the stars a little more in your day.
Now is a great time to come down to Victor Ford today and take one of these down for a test drive today to see how these great convenience features compare.