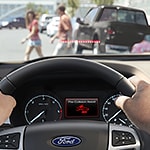 The Ford Ranger, built to be versatile and rugged, also doesn't skimp when it comes to the design department. The exterior and interior design features of the Ford Ranger are expertly crafted to look great while driving down the road and help maximize performance. Here are a few of the design features you'll be able to enjoy around Wauconda, IL when you're driving in your Ford Ranger.
One of the first things you'll notice about the Ranger is the twin power dome hood. This athletic design is as much for looks as it is efficiency, as the hood blends with the windshield to make for a quieter cabin. Another functional design feature is the higher stance of the Ranger. This higher stance provides exceptional ground clearance that makes the Ford Ranger great for all types of road conditions and for those times when there's no road at all.
If you want to test the Ford Ranger for yourself, don't hesitate to stop by Victor Ford today.