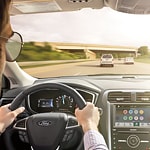 The Ford Fusion is a four-door Sedan. It can seat up to five people. It can also get up to 34 MPG. The performance features are one of the things that attract people to this vehicle. It has a lane-keeping system. There are times when you may drift to the wrong side of the road.
Fortunately, the lane-keeping system can keep you in the proper position. It will alert you when you start to drift. It works by scanning the position of your vehicle. This vehicle also has a voice-activated touchscreen navigation system.
This is great for both short and long trips. Not only can you get distractions, but you can also get weather updates and sports updates. Furthermore, you will be able to find gas stations and get information about the price. You can take the Ford Fusion for a test drive before buying it. Visit our dealership today.