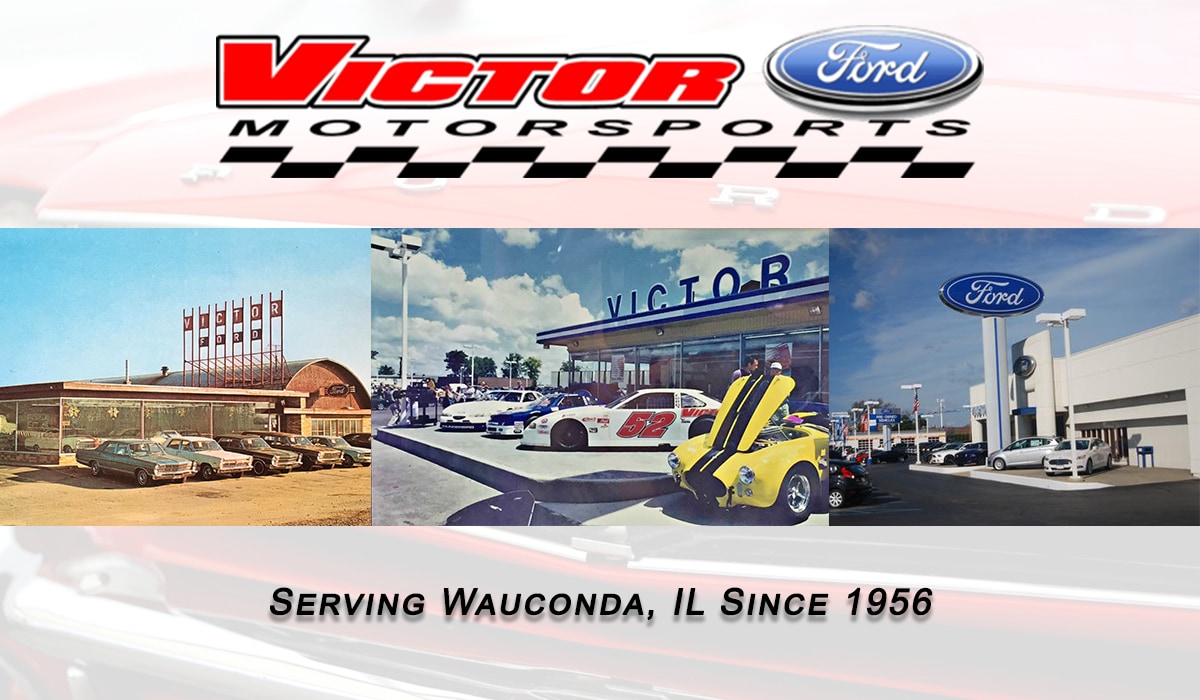 Victor Ford - Wauconda's Ford Dealer Since 1956
Looking for your Ford Dealer in Wauconda, IL? Victor Ford is your premier car, truck and SUV retailer. What started over 60 years ago as a family-owned business that sold farm equipment, has now evolved in to Wauconda's full-service Ford dealership. We have served Wauconda, IL and the surrounding communities; including Woodstock, Lake Zurich and Gurnee since 1956. We are proud to say, we've worked hard to meet the needs of residents in every decade! Our inventory is tailored to the needs of the Wauconda, IL community.
Victor Ford features Jeff Victor's Indoor Ford Mustang Showroom. Ford Mustang enthusiasts will enjoy this tribute to the quintessential American Muscle Car. Each car in the showroom is cared for with temperature control and weekly dusting and waxing. If you're looking for a Ford Mustang, look no further than Victor Ford. Our service team and loan specialists are here to work with you to find your dream car!
Victor Ford's New Ford Inventory
At Victor Ford, we carry a wide selection of Ford models. As a Northern Illinois Ford Dealership, we are proud to be the destination for anyone that is in the market for a new Ford vehicle. Our passion for quality vehicles has made Victor Ford a fantastic destination for Ford vehicle enthusiasts.
 Click here to view our new inventory now!
●     Ford Mustang: Our new Ford Mustang inventory has been carefully selected. If you're looking for the most current Ford Mustang models, come check out our Indoor Ford Mustang Showroom. These vehicles are the epitome of modern American Muscle Cars.
●     Ford F-150: Built Ford Tough, the Ford F-150 is equally at home on the road as it is in the wilderness. Victor Ford is proud to offer a quality selection of Ford F-150 models that are built to handle hard work, hard winters, and are fun to drive. The Ford F-150 is a perfect balance of utility and aesthetics. 
Our inventory of hundreds of cars, trucks, and SUV's can be browsed on the lot or right here on our website. You can search our inventory by model, year, body style, price, transmission, odometer reading, and fuel efficiency. Our CarFinder is a free, no-obligation tool that helps you sort through our entire collection of new and used vehicles. Once you submit your vehicle preferences, we'll send you details on vehicles that match. For your convenience, we include photos. Let us help you find your next vehicle!
Victor Ford's Used Vehicle Inventory
Here at Victor Ford, we keep a collection of high-quality previously owned vehicles. Each used vehicle is given a full inspection by our service technicians to ensure only the best vehicles make it to the Victor Ford lot.
Click here to view our used vehicle inventory now!
We understand that finding the right Ford is important to you and that buying a vehicle can be a daunting task. Victor Ford makes it easy to find the car of your dreams. Our team of loan specialists are here to work with you and to help keep your budget needs in mind too. Our service team can answer any questions you have about a used car, truck, or SUV.
The best way to truly learn what vehicle is right for you is to come in and test drive one. Our used vehicle inventory moves quickly, so if you see something you like on the site, don't hesitate to visit our dealership.
If you're seeking a previously owned Ford Mustang, come on by our Indoor Ford Mustang Showroom. We have some amazing vintage and pre-owned Mustang models for you to check out and test drive.
Start the Search for Your Dream Car
Ready to start shopping for your next Ford vehicle? Then we encourage you to view our vehicle inventory and to contact us at Victor Ford in Wauconda, IL. Don't wait another day to find the perfect vehicle!