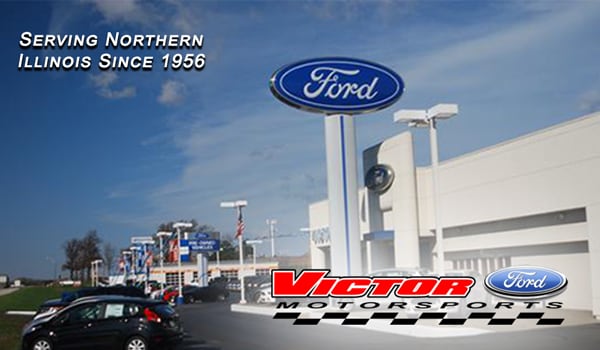 Victor Ford - Serving Woodstock, IL Over 60 Years 
Since 1956, Victor Ford in Wauconda has proudly served the Woodstock, IL and surrounding areas including; McHenry, Lake Zurich and Antioch. Our family-owned Ford dealership offers a wide range of both new and used inventory, so whether you are a vehicle enthusiast or looking for something with a few miles on it, we are equipped to serve you.
Our passion for muscle and performance vehicles shines through our unmatched Ford Mustang selection, and especially through our Mustang exclusive Indoor Showroom - which is the only one of its kind in Northern Illinois. Each Ford Mustang in our showroom is treated as if it were our own; stored in a controlled climate, and dusted and spray waxed each week until it finds its owner.
Victor Ford's New Ford Inventory 
With new additions to our inventory nearly twice a month, Victor Ford is a place for vehicle enthusiasts. We offer a wide range of options for anyone in the Northern Illinois area looking to bring home a new Ford vehicle.
We carefully select our Ford Mustang inventory, and the most recent models are always available to be viewed in our Indoor Ford Mustang Showroom. In addition, we offer dozens of quality truck options, including the most recent Ford F-150 models. These models are Built Ford Tough, and are ready to handle any conditions on the road with power and ease. Stop by our dealership or browse online today.
We offer custom builds and a prime selection of nearly 100 vehicles, from cars to trucks and SUVs, which can be viewed online or on the lot. You can filter through our website using a variety of tags such as model, year, price and mileage. Click here to view our new inventory now!
Picking a new vehicle can be overwhelming, especially when you have so many options. Take advantage of our CarFinder, a free, no-obligation tool that assists in finding a vehicle tailored to your needs and preferences. After specifying your ideal car, truck, or SUV, we automatically send you details and photos of the models that meet your criteria, making the process even easier.
Victor Ford's Used Ford Inventory 
We offer a great selection of high-quality used vehicles at Victor Ford that you can trust are in the proper condition to be taken home. All used vehicles must pass a full inspection by our service technicians to ensure that only the best vehicles end up on the Victor Ford lot.
Our Indoor Ford Mustang Showroom not only features new vehicles - we also have vintage and pre-owned Ford Mustangs ready for you to test drive and take home. Keep in mind, though, that our used inventory comes and goes quickly, so if you see something you like, don't hesitate to take the next step before it's too late. Click here to view our used vehicle inventory now!
We have a team of experts ready to help you through each stage of the car buying process. Our loan specialists are trained to assist you through the financial process, finding the best options you and your budget.
We're Ready To Serve You
Buying a car, whether it's new or used, isn't an easy task. At Victor Ford, we will do all we can to make the process an enjoyable one for you. Browse our selection of new and used inventory online or stop in today so we can begin the process together!