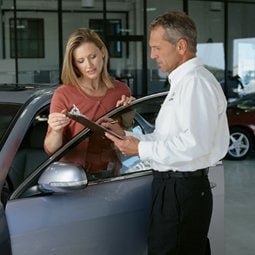 Visit Our Ford Service Center at Victor Ford, serving Lake Zurich, McHenry, Round Lake, Barrington IL and Crystal Lake IL
Visit Our Reliable Ford Service Center in Wauconda
Servicing your Ford regularly plays a significant role in maintaining its efficiency, reducing carbon monoxide emissions, and enhancing fuel economy. To ensure that you attain these benefits, you must ensure that you seek help from an experienced and reliable service team. The team should have factory-trained technicians equipped with the ideal expertise and servicing tools required to solve any Ford maintenance issue.
Our Wauconda Ford dealership hosts several certified and trained technicians who provide exemplary care and service for your machine. Our technicians use genuine Ford accessories and parts for all maintenance and repair services, ensuring that your machine stays at peak performance and runs smoothly. Whether your Ford truck, SUV, or car needs transmission repair, a quick oil change, or a new battery, our team of specialists will resolve all issues at ease. You can even take advantage of the FordPass app for service on your schedule.
Oil Change
Oil plays a significant role in any car engine. It serves as lifeblood since it cools and lubricates the engine to enhance engine performance. However, after some months of driving in Lake Zurich, the oil crumbles and gets polluted with dust and dirt. When the oil deteriorates, it stops performing its task, exposing other vehicle parts to hazardous risks. Changing the oil regularly will enhance the engine's performance and increase the lifespan of the machine.
Brake Service
It remains crucial to keep your brakes in perfect order to enhance your safety on the roads of Crystal Lake, IL. At Victor Ford, we have licensed technicians with the skill and knowledge to replace or repair worn-out and damaged brake parts. You need all the stopping power you can get during your Round Lake expeditions, and we can help.
Tire Care
Your Ford's tires perform different tasks on the roads of McHenry. They offer traction on different surfaces, support the vehicle's weight, absorb shocks and bumps, and assist in maintaining direction and travel. Hence, it remains critical to replace tires after some time for your vehicle's safety.
Visit our dealership today to look at our collection of tires. We have more than ten top-quality name brands that can fit your machine's make and model. If you have issues picking the right tire, we have experienced tire specialists who can help you choose your machine's right style and size. If you plan to venture into off-road activities with your vehicle, our team can help you with specialty tires or seasonal tires.
Battery Service
A car battery plays a significant role by providing energy to start and run your engine. If the battery wears out or runs down, it will not have the energy needed to run and start your engine. If you want to know the form of your Ford's battery, visit us at Victor Ford and let us run a series of computerized tests on your battery.
Comprehensive Service Menu
Your car needs a long list of various maintenance services for it to perform optimally on the roads of Barrington, IL. Our Ford service team has the right tools and knowledge to help you handle all services, and you can save time with our Quick Lane team. Apart from brake service, tire rotation, and oil change, our team also helps with air filter replacements, transmission overhauls, and four-wheel alignments. We can also help you replace your car's components, such as brake pads and wiper blades, if your reach out to us for help.